Learn how to download PSL+ on your computer and set up an Okta profile with multifactor authentication.
Related Videos:
---
Download PSL+ with Okta SSO (either through the installer URL provided by Cast & Crew or the link which appears in the dialogue box shown below after launching the existing PSL3/PSL+ desktop shortcut).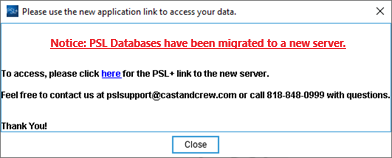 After clicking on the link, you will see the following screen. Click Launch PSL+ on this screen:
After downloading and installing the new PSL+ application, please follow the instructions below to set up your new username and password
Login Instructions
On the PSL+ login screen, enter your existing PSL username, not your corporate email address. User accounts are unique across PSL+ so they cannot be duplicated.

Example: mmao07

Click Next.



Enter your existing PSL password and click

Sign In.

A "Sign In Security Change" message will show. Click Switch my login to use my email address to begin the switch.
For users who

DO NOT

have an existing Okta account associated with Cast & Crew, fill out the form on the left side.

Enter your first name, last name, email address and confirm your email address.

Click Submit.



For users who

DO

have an existing Okta account associated with Cast & Crew, click Link my email account from other shows.


An email will be sent to your email address with instructions to activate your account.
Click Back to Sign In and keep this PSL+ window open. You'll need to return to it in Step #14.

Open the email received and click Activate my account.

On the "Existing User Validation" page, you'll need to enter your existing PSL username and password to validate your PSL user credentials.

Example: mmao07

Click Validate.


Next, create your single sign-on Okta profile (only if you are not linking an existing Okta account).

Follow the prompts to create a password.
Add a phone number.

And select a security image. Click Create My Account when you are done.

You will be notified that the transition is complete.


Return to the open PSL+ window to navigate back to the PSL+ login screen.

Enter the email address you used to set up your Okta account. Click

Next.


Enter your newly created password. Click Sign In.

On the next screen, you'll be asked to set up Okta Verify, which adds multifactor authentication security to your login.
Under 'Okta Verify,' click Setup.


Next, select the type of smartphone device you have: Apple or Android.

Please download the Okta Verify app from your device's App Store. This is how you'll be able to successfully log in to PSL+ using multifactor authentication.

Once you have downloaded the Okta Verify app, click Next on the screen.
On your mobile device, open the Okta Verify app and tap Add an account.
Use your mobile device to scan the barcode shown on your computer screen.

If the QR code does not work, or you encounter an error, you can click Can't scan? to enter your mobile phone number and you will receive a text message with a link to complete the multifactor authentication.

Once setup has been successfully completed, you will be taken to your Show List which contains the shows associated with your account. Select the appropriate database and click OK.

You will be logged in to the appropriate database in PSL+ successfully.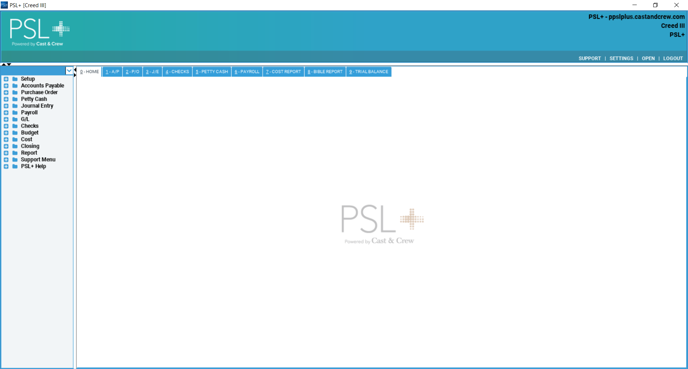 Questions? We are here to help
If you have any questions, please reach out to PSL Support at pslsupport@castandcrew.com
or call 818-848-0999.
To download a PDF version of this article, click here.